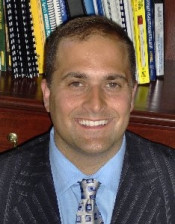 Leonard Simonetti
Owner Broker
Phone 631-647-8840
Leonard "Lenny" Simonetti Lenny Simonetti has real estate in his blood. He is a third generation Realtor® beginning his real estate career in 1998 at his grandfather's office. It didn't take long for him to become one of the top agents there. Having established his own real estate identity through the great success he earned, Lenny decided to venture out and join RE/MAX where his success continued to grow. For two years in a row, he was the #2 RE/MAX agent in all of Long Island, was in the Top 1% in the nation, made the Chairman's Club and was inducted to the RE/MAX Hall of Fame. Now Lenny has taken his illustrious career to the next level and will undoubtedly reach new heights at Exit Realty All Pro.
More than the awards and recognition, what makes Lenny proudest of the success he earned is what that represents to the people he served. A home for most is their single greatest financial investment. Beyond that, it houses much of their greatest emotional investments as well. The American Dream is to own a home. Home is the place where your strongest memories are made. To be trusted by so many with their real estate needs is what is closest to Lenny's heart. This is why he relentlessly pursues every opportunity to make him a stronger Realtor®. Whether it's his regular Mastermind meetings with top Realtors around the country to discuss the best ways to provide service to his clients and customers or sessions with his private coach or attending training seminars with top producing Realtors all over the country, Lenny is always raising the bar higher for himself so he can provide optimum service. It shows in his stellar negotiation skills and is the reason why numerous builders will only hire Lenny Simonetti for their real estate purchases and sales – even when they have family who are agents.
Energy, optimism and honesty are what Lenny Simonetti is all about. See how he can put that to work for you.
My Listings
31 Beatrice Avenue, West Islip, NY 11795
Bedrooms : 3
Bathrooms : 1
$389,000
22 5th Street, Moriches, NY 11955
Bedrooms : 2
Bathrooms : 1
$299,990
My Pendings
720 Shore Walk, Lindenhurst, NY 11757
Bedrooms : 5
Bathrooms : 4
$799,000
7 Big Cone Lane, Medford, NY 11763
Bedrooms : 5
Bathrooms : 3
$399,990
249 Waverly Avenue, Medford, NY 11763
Bedrooms : 4
Bathrooms : 2
$399,990
10 Leaf Ave, Central Islip, NY 11722
Bedrooms : 3
Bathrooms : 2
$379,990
Sold/Rented
2 Oak Grove Court, Bayport, NY 11705
Bedrooms : 4
Bathrooms : 4
$1,199,000
50 Thompson Ave, Babylon, NY 11702
Bedrooms : 6
Bathrooms : 4
$900,000
20 Skipper Dr, West Islip, NY 11795
Bedrooms : 6
Bathrooms : 5
$819,000
23 Celano Ln, West Islip, NY 11795
Bedrooms : 5
Bathrooms : 4
$799,990
114 Elder Rd, Islip, NY 11751
Bedrooms : 4
Bathrooms : 4
$769,990
44 Willoughby Path, E. Northport, NY 11731
Bedrooms : 4
Bathrooms : 2
$749,990
17 Jay Court, Bohemia, NY 11716
Bedrooms : 4
Bathrooms : 3
$749,990
8 Salt Meadow Rd, Babylon, NY 11702
Bedrooms : 4
Bathrooms : 3
$749,000
34 Secatogue Ln, West Islip, NY 11795
Bedrooms : 3
Bathrooms : 3
$729,990
19 Elderwood Dr, St. James, NY 11780
Bedrooms : 4
Bathrooms : 3
$699,000
263 Secatogue Ln, West Islip, NY 11795
Bedrooms : 5
Bathrooms : 3
$674,990
58 E Dolphin Ln, Copiague, NY 11726
Bedrooms : 4
Bathrooms : 3
$674,990
2558 Riverside Drive, Wantagh, NY 11793
Bedrooms : 3
Bathrooms : 3
$659,000
28 Leeside Drive, Great River, NY 11739
Bedrooms : 3
Bathrooms : 2
$649,990
104 West Drive, Massapequa, NY 11758
Bedrooms : 3
Bathrooms : 2
$629,900
27 Avondale Drive, Islip, NY 11751
Bedrooms : 3
Bathrooms : 3
$624,990
1 Eunice Dr, E. Northport, NY 11731
Bedrooms : 4
Bathrooms : 3
$615,000
235 E Shore Rd, Lindenhurst, NY 11757
Bedrooms : 5
Bathrooms : 3
$599,000
48 Wilson St, Blue Point, NY 11715
Bedrooms : 5
Bathrooms : 3
$599,000
3 Blueberry Court, Melville, NY 11747
Bedrooms : 3
Bathrooms : 3
$589,999
235 Shore Road, Lindenhurst, NY 11757
Bedrooms : 5
Bathrooms : 2
$574,990
353 W Chester St, Long Beach, NY 11561
Bedrooms : 4
Bathrooms : 2
$574,990
93 Daniel Rd S. , Massapequa, NY 11758
Bedrooms : 3
Bathrooms : 3
$574,900
344 Iowa Avenue, Massapequa, NY 11758
Bedrooms : 5
Bathrooms : 4
$569,990
702 Carlisle Rd, Jericho, NY 11753
Bedrooms : 3
Bathrooms : 2
$569,000
140 Halley Drive, Blue Point, NY 11715
Bedrooms : 2
Bathrooms : 2
$549,990
39 Lucille Ln, Dix Hills, NY 11746
Bedrooms : 6
Bathrooms : 4
$539,000
11 Susan Court, Deer Park, NY 11729
Bedrooms : 4
Bathrooms : 3
$525,000
181 Massachusetts Ave, Massapequa, NY 11758
Bedrooms : 3
Bathrooms : 2
$519,990
117 Gladstone Ave, West Islip, NY 11795
Bedrooms : 4
Bathrooms : 3
$509,990
2411 Atlantic Boulevard, Wantagh, NY 11793
Bedrooms : 4
Bathrooms : 2
$499,990
1 Colonial Road, Old Bethpage, NY 11804
Bedrooms : 3
Bathrooms : 2
$499,900
32 2nd St, Lynbrook, NY 11563
Bedrooms : 3
Bathrooms : 2
$499,000
17 Bardolier Ln, Bay Shore, NY 11706
Bedrooms : 4
Bathrooms : 3
$479,000
107 Potunk Ln, Westhampton Bch, NY 11978
Bedrooms : 2
Bathrooms : 2
$475,000
18 Peter Ln, Plainview, NY 11803
Bedrooms : 3
Bathrooms : 2
$474,990
11 Hearthstone Court, Farmingdale, NY 11735
Bedrooms : 2
Bathrooms : 3
$469,990
24 Hearthstone Court, Farmingdale, NY 11735
Bedrooms : 2
Bathrooms : 3
$469,990
413 Grand Blvd, Massapequa Park, NY 11762
Bedrooms : 3
Bathrooms : 2
$469,000
445 Landing Ave, Smithtown, NY 11787
Bedrooms : 3
Bathrooms : 2
$469,000
119 Amsterdam Ave, W. Babylon, NY 11704
Bedrooms : 4
Bathrooms : 2
$459,999
15 Hearthstone Court, Farmingdale, NY 11735
Bedrooms : 2
Bathrooms : 3
$459,990
20 Hearthstone Court, Farmingdale, NY 11735
Bedrooms : 2
Bathrooms : 3
$459,990
10 Hearthstone Court, Farmingdale, NY 11735
Bedrooms : 2
Bathrooms : 3
$459,990
16 Hearthstone Court, Farmingdale, NY 11735
Bedrooms : 2
Bathrooms : 3
$459,990
309 Devon Ln, Smithtown, NY 11787
Bedrooms : 5
Bathrooms : 2
$459,990
3 Hearthstone Court, Farmingdale, NY 11735
Bedrooms : 2
Bathrooms : 3
$459,990
244 Middle Road, Blue Point, NY 11715
Bedrooms : 6
Bathrooms : 4
$459,900
70 Cockonoe Ave, Babylon, NY 11702
Bedrooms : 4
Bathrooms : 2
$459,000
53 Fire Road Drive, Bay Shore, NY 11706
Bedrooms : 4
Bathrooms : 3
$449,999
25 Harbour Rd, Babylon, NY 11702
Bedrooms : 3
Bathrooms : 2
$449,990
7 Hearthstone Court, Farmingdale, NY 11735
Bedrooms : 2
Bathrooms : 3
$449,990
140 Sumpwams Ave, Babylon, NY 11702
Bedrooms : 4
Bathrooms : 2
$449,990
707 Walnut Ave, Bohemia, NY 11716
Bedrooms : 5
Bathrooms : 3
$449,000
20 Columbo Drive, Deer Park, NY 11729
Bedrooms : 4
Bathrooms : 3
$449,000
5 Hearthstone Court, Farmingdale, NY 11735
Bedrooms : 2
Bathrooms : 3
$445,000
13 Hearthstone Court, Farmingdale, NY 11735
Bedrooms : 2
Bathrooms : 3
$445,000
22 Hearthstone Court, Farmingdale, NY 11735
Bedrooms : 2
Bathrooms : 3
$445,000
18 Hearthstone Court, Farmingdale, NY 11735
Bedrooms : 2
Bathrooms : 3
$445,000
14 Hearthstone Court, Farmingdale, NY 11735
Bedrooms : 2
Bathrooms : 3
$445,000
19 Hearthstone Court, Farmingdale, NY 11735
Bedrooms : 2
Bathrooms : 3
$445,000
23 Hearthstone Court, Farmingdale, NY 11735
Bedrooms : 2
Bathrooms : 3
$445,000
855 Bay 8th Street, West Islip, NY 11795
Bedrooms : 4
Bathrooms : 2
$439,999
9 Hearthstone Court, Farmingdale, NY 11735
Bedrooms : 2
Bathrooms : 3
$439,990
12 Hearthstone Court, Farmingdale, NY 11735
Bedrooms : 2
Bathrooms : 3
$439,990
33 9th Street, Islip Terrace, NY 11752
Bedrooms : 4
Bathrooms : 3
$439,000
41 Hauser Street, Bohemia, NY 11716
Bedrooms : 4
Bathrooms : 2
$439,000
18 Ketewamoke Ave, Babylon, NY 11702
Bedrooms : 3
Bathrooms : 2
$439,000
17 Hearthstone Court, Farmingdale, NY 11735
Bedrooms : 2
Bathrooms : 3
$429,990
21 Hearthstone Court, Farmingdale, NY 11735
Bedrooms : 2
Bathrooms : 3
$429,990
36 Schuyler Dr, Commack, NY 11725
Bedrooms : 4
Bathrooms : 3
$429,000
567 Washington Ave, Lindenhurst, NY 11757
Bedrooms : 4
Bathrooms : 4
$429,000
2624 Peconic Ave, Seaford, NY 11783
Bedrooms : 5
Bathrooms : 3
$428,876
76 Tracy Ln, East Islip, NY 11730
Bedrooms : 4
Bathrooms : 2
$425,000
70 Lincoln Ave, Selden, NY 11784
Bedrooms : 4
Bathrooms : 3
$424,990
6 Hearthstone Court, Farmingdale, NY 11735
Bedrooms : 2
Bathrooms : 3
$424,990
165 Surrey Commons, Lynbrook, NY 11563
Bedrooms : 4
Bathrooms : 3
$419,000
421 President Pl, W. Babylon, NY 11704
Bedrooms : 4
Bathrooms : 3
$410,000
101 Arbour Street, West Islip, NY 11795
Bedrooms : 3
Bathrooms : 2
$410,000
31 Ring Ln, Levittown, NY 11756
Bedrooms : 5
Bathrooms : 2
$409,000
6 Conlu Dr, East Islip, NY 11730
Bedrooms : 4
Bathrooms : 2
$399,999
538 S Chicot Ave, West Islip, NY 11795
Bedrooms : 4
Bathrooms : 3
$399,990
5 Sprat Street, Medford, NY 11763
Bedrooms : 4
Bathrooms : 3
$399,990
4 Hearthstone Court, Farmingdale, NY 11735
Bedrooms : 2
Bathrooms : 2
$399,990
8 Hearthstone Ct, Farmingdale, NY 11735
Bedrooms : 2
Bathrooms : 3
$399,990
59 Cockonoe Ave, Babylon, NY 11702
Bedrooms : 3
Bathrooms : 2
$399,990
8 Hearthstone Court, Farmingdale, NY 11735
Bedrooms : 2
Bathrooms : 3
$399,990
16 Chyam St, N. Babylon, NY 11703
Bedrooms : 5
Bathrooms : 3
$399,990
2 Chardonnay Dr, Coram, NY 11727
Bedrooms : 5
Bathrooms : 3
$399,990
11 Cedar St, Brookhaven, NY 11719
Bedrooms : 3
Bathrooms : 2
$399,990
6 Arbor Ridge Ln, S. Setauket, NY 11720
Bedrooms : 3
Bathrooms : 3
$399,000
83 Deer Lake Dr, N. Babylon, NY 11703
Bedrooms : 3
Bathrooms : 3
$399,000
2369 Aberdeen St, East Meadow, NY 11554
Bedrooms : 4
Bathrooms : 2
$399,000
557 Fire Island Ave, Babylon, NY 11702
Bedrooms : 3
Bathrooms : 1
$399,000
224 Rushmore Ave, Carle Place, NY 11514
Bedrooms : 4
Bathrooms : 2
$399,000
16 Corsa St, Dix Hills, NY 11746
Bedrooms : 3
Bathrooms : 3
$399,000
117 Jayne Avenue, Patchogue, NY 11772
Bedrooms : 4
Bathrooms : 3
$399,000
23 Foxhurst Rd, Dix Hills, NY 11746
Bedrooms :
Bathrooms :
$390,000
6 Amapola Ln, Kings Park, NY 11754
Bedrooms : 3
Bathrooms : 3
$389,990
139 Amsterdam Ave, W. Babylon, NY 11704
Bedrooms : 4
Bathrooms : 2
$389,990
676 N Alleghany Ave, Lindenhurst, NY 11757
Bedrooms : 5
Bathrooms : 2
$389,990
5 Fairlawn Dr, Deer Park, NY 11729
Bedrooms : 3
Bathrooms : 2
$389,990
230 Von Huenfeld St, Massapequa Park, NY 11762
Bedrooms : 5
Bathrooms : 2
$389,000
30 Kensington Way, Pt.Jefferson Sta, NY 11776
Bedrooms : 4
Bathrooms : 3
$385,000
25 Orchard St, Hauppauge, NY 11788
Bedrooms : 3
Bathrooms : 2
$384,999
11 Central Park Blvd, Bohemia, NY 11716
Bedrooms : 2
Bathrooms : 3
$384,900
26 Berkshire Rd, W. Babylon, NY 11704
Bedrooms : 3
Bathrooms : 2
$379,990
49 Lincoln Ave, Massapequa Park, NY 11762
Bedrooms : 4
Bathrooms : 1
$379,990
9 Berard Blvd, Oakdale, NY 11769
Bedrooms : 4
Bathrooms : 2
$379,990
311 Liberty Street, Deer Park, NY 11729
Bedrooms : 3
Bathrooms : 2
$374,990
14 Freshman Pl, Stony Brook, NY 11790
Bedrooms : 3
Bathrooms : 2
$374,990
95 Magaw Pl, W. Babylon, NY 11704
Bedrooms : 6
Bathrooms : 2
$374,990
151 Ketridge St, W. Babylon, NY 11704
Bedrooms : 5
Bathrooms : 2
$374,990
45 Lexington Ave, Patchogue, NY 11772
Bedrooms : 3
Bathrooms : 2
$374,000
308 40 St, Lindenhurst, NY 11757
Bedrooms : 5
Bathrooms : 3
$369,990
172 Jericho St, East Islip, NY 11730
Bedrooms : 3
Bathrooms : 1
$369,990
7 Commerce Pl, Islip Terrace, NY 11752
Bedrooms : 3
Bathrooms : 3
$364,990
162 Coates Avenue, Holbrook, NY 11741
Bedrooms : 3
Bathrooms : 2
$359,999
19 45th St, Islip, NY 11751
Bedrooms : 7
Bathrooms : 4
$359,999
94 Monroe St, Amityville, NY 11701
Bedrooms : 4
Bathrooms : 2
$359,990
68 Elder Dr, Commack, NY 11725
Bedrooms : 4
Bathrooms : 2
$359,000
23 Birchfield Ave, Babylon, NY 11702
Bedrooms : 4
Bathrooms : 2
$349,990
78 Bishop Road, W. Babylon, NY 11704
Bedrooms : 4
Bathrooms : 1
$349,990
945 Union Street, Bohemia, NY 11716
Bedrooms : 3
Bathrooms : 2
$349,990
102 Oregon Ave, Medford, NY 11763
Bedrooms : 3
Bathrooms : 2
$349,990
364 Howells Rd, Bay Shore, NY 11706
Bedrooms : 4
Bathrooms : 2
$349,990
28 lakeshore Drive, Ronkonkoma, NY 11779
Bedrooms : 3
Bathrooms : 1
$349,990
81 Beech St, Islip, NY 11751
Bedrooms : 3
Bathrooms : 2
$349,990
234 6th Ave, W. Babylon, NY 11704
Bedrooms : 3
Bathrooms : 2
$349,900
5 Hilda Court, Pt.Jefferson Sta, NY 11776
Bedrooms : 4
Bathrooms : 4
$349,900
25 Illinois St, Dix Hills, NY 11746
Bedrooms : 4
Bathrooms : 2
$349,000
2411 Atlantic Blvd, Wantagh, NY 11793
Bedrooms : 4
Bathrooms : 2
$349,000
85 Wilson St, Babylon, NY 11702
Bedrooms : 4
Bathrooms : 2
$347,850
4 Celia Street, E. Patchogue, NY 11772
Bedrooms : 3
Bathrooms : 2
$344,990
53 17th St, W. Babylon, NY 11704
Bedrooms : 3
Bathrooms : 2
$339,990
734 S 8th St, Lindenhurst, NY 11757
Bedrooms : 4
Bathrooms : 2
$339,990
172 S 7th St, Lindenhurst, NY 11757
Bedrooms : 4
Bathrooms : 3
$339,990
15 Arctic St, Bay Shore, NY 11706
Bedrooms : 3
Bathrooms : 2
$339,000
64 Timber Ridge Drive, Holtsville, NY 11742
Bedrooms : 1
Bathrooms : 2
$339,000
24 Worden Pl, W. Babylon, NY 11704
Bedrooms : 3
Bathrooms : 2
$339,000
55 Old Farmingdale Rd, W. Babylon, NY 11704
Bedrooms : 4
Bathrooms : 2
$337,990
88 Claremont St, Deer Park, NY 11729
Bedrooms : 4
Bathrooms : 1
$334,990
3 Sugarwood Ln, Commack, NY 11725
Bedrooms : 3
Bathrooms : 2
$334,000
47 Adirondack Drive, Selden, NY 11784
Bedrooms : 3
Bathrooms : 2
$332,500
44 E Lakeland St, Bay Shore, NY 11706
Bedrooms : 5
Bathrooms : 4
$331,990
4 Frank Ave, Farmingdale, NY 11735
Bedrooms : 4
Bathrooms : 2
$329,990
195 Jefferson St, East Islip, NY 11730
Bedrooms : 3
Bathrooms : 2
$329,990
570 Dryden St, Westbury, NY 11590
Bedrooms : 5
Bathrooms : 2
$329,990
3 Rhode Island Ave, Massapequa, NY 11758
Bedrooms : 3
Bathrooms : 1
$329,990
450 Albany Ave, Lindenhurst, NY 11757
Bedrooms : 4
Bathrooms : 3
$329,990